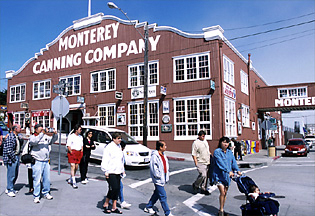 From Rust to Rebirth – The Revitalization of Cannery Row
In the late 1940s when the sardines left Monterey, the canneries began to leave as well. The despair and obscurity of a ghost town settled on the empty street, and fire threatened the decaying canneries. Through the 1960s, many cannery buildings burnt to the ground, bringing the once vibrant and bustling Ocean View Avenue to a somber state. It was the end of an era on Cannery Row and the beginning of a new one.
The Sardine Factory Opens
Seeing the potential of the nearly abandoned area known as Cannery Row, Ted Balestreri and Bert Cutino chose to open a restaurant in a building where sardine workers were once fed. The Sardine Factory restaurant opened on October 2, 1968, with only 72 seats. The Sardine Factory is today one of the most successful, widely recognized and highest-grossing dining establishments in the country, renowned for one of the premier wine programs in the nation.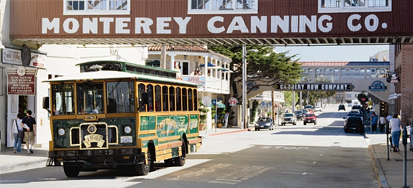 Transformation & Rebirth
The opening of The Sardine Factory signaled the beginning of a rebirth for the area with the founding of Foursome Development Company in 1976, which was the foundation of the soon to come Cannery Row Company. Founding and General Managing Partner Ted Balestreri shared a vision with close friends Harry Davidian, George Zarounian and Bert Cutino. The group formed a partnership that was the driving force behind the revitalization. The revival of Cannery Row transformed it from a street of abandoned canneries into a welcoming waterfront where visitors could linger, play and return again and again.
Cannery Row is now one of America's top visitor destinations, attracting approximately four million people each year.
Today, visitors to Cannery Row can soak up the past, enjoy the present, and marvel at how the former clanking, smelly, industrial street has been transformed into one of the world's most beautiful waterfront destinations.